Introduction:
M-commerce is a disruptive way of doing business over internet. It means conducting business over the internet by employing mobile phones as the medium.The term "M-commerce" was coined by Kevin Duffey in 1977 at the launch of the Global 'Mobile Commerce' Forum.The key components of M-commerce includes a business model, services offered through the business, and the technology component (internet and handheld device). M-commerce lets the user do a transaction including buying and selling of goods, availing services through online providers, transferring rights, transacting money.The ubiquity of mobile devices makes them omnipresent and omnipotent, they remain with you wherever you go, help you navigate a nearby restaurant or a hospital, connect with family and friends, pay for items at a store, or hail a cab etc.  In the upcoming year, M-commerce will become the preferred way doing for digital transactions surpassing E-commerce.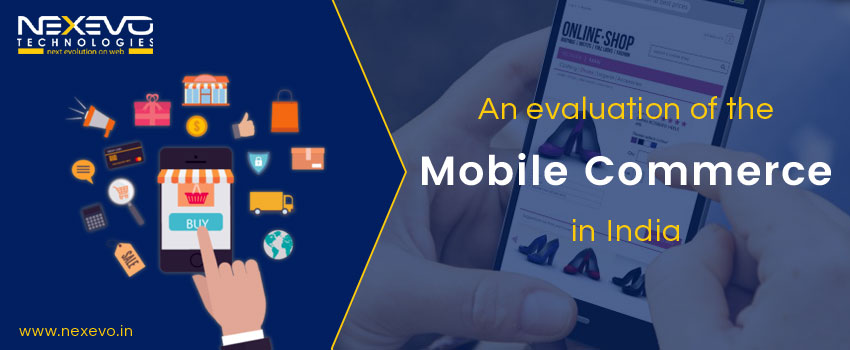 Scope of M-commerce in India:
India has become the second largest market for smartphones replacing US. Indian customers have welcomed mobile commerce with open hands, with nearly 83% of the populations own a smartphone and shop online using their smart devices. To be specific, customers in the age group of 25-34 use their smartphones/ tablets to shop online. These are some of the results that emerged from the "State of M-Commerce 2016" survey conducted.  The current online shoppers in India fall under the range of 80-100 million, and these numbers are expected to go up to 175-220 million by 2020.
Hence, M-commerce remains to be an area, yet to be explored. There are lot of technology firms helping their customers to gear-up for the upcoming change in the way of doing business online. One such firm, Nexevo Technologies is one of them Mobile Application Development Companies in Bangalore, a professional web designing and development company from Bangalore, India is actively working in this area to explore its full potential. Nexevo is also helping some of its prominent clients in Bangalore, in other parts of India, and abroad, in transitioning effectively from the E-commerce platform to M-commerce platform.
Some of the services provided by Nexevo Technologies:
M-Commerce Solution: End-to-end solutions
Application Development: Mobile app development
Mobile Websites:  We develop responsive websitesusing HTML 5
SEO Services: Premium SEO Services
Social Media Marketing: Premium SMO and Online Network Optimization Services
Initiatives towards M-Commerce:
The Indian Government is proactively acting and has launched several programs for encouraging M-commerce:
The Digital India Initiative
Startup India
Skill India
Implementation of GST
Mobile Wallets
Unified Payment Interface
Further, The Prime Minister, Mr. Narendra  Modi has also given a lot of support to digital transactions and has encouraged the use of E-banking and mobile banking for doing cashless transactions. Applications like BHIM is one such initiativebased on UPI, to facilitate E-payments directly through banks.
Why users prefer M-commerce over E-commerce:
According to a survey conducted (Source: www.targetingmantra.com), the following are the top 5 reasons why consumers are embracing M-commerce
It saves a lot of time: 73% 
On the fly connectivity: 69%
No waiting time: 55%
Ease of locating deals: 69%
Multitasking: 63%
On an overall basis, it can be said that M-commerce will bring in significant changes in Indian market for both consumers and retailers.