Anyone who is associated with content writing will agree that writing on the same niche and topics, again and again, is a boring and tedious task. You will surely tire after using the same idea and words repeatedly if you are asked to provide content on similar topics. Also, there is a strong possibility that you will feel a lack of inspiration to create something unique and fresh for your blogs with the passage of time.
Any professional writer can easily understand this pain. Writing is one of the most time-consuming and burdening tasks at the same time, especially if you write on a daily basis.
Significance of Quality Content
The massive appreciation of web-based platforms and easy access to digital technology has made it essential for every business and organization to make a strong presence online to grab the attention of the targeted audience.
This requires powerful and catchy content that grabs people's attention and turns them into loyal readers. It has been surveyed that content is the most influential element in recent times that helps businesses online to increase the number of potential customers. But, the content should be of excellent quality if you want to achieve desired results.
Here the important question many bloggers would have in their mind right now is how to create high-quality content in a limited time.
Well, the answer is quite simple! Technology innovation has provided luck to all of us in this regard.
The internet is flooded with remarkable paraphrasing tools that can save you time and effort and enables you to craft appealing and unique content without starting from scratch.
In this blog post, we will share a few best paraphrasers for bloggers to curate engaging and quality content.
But before that, let's find out what is a paraphrasing tool and how it works.
So, let's start without any further ado!
What is a Paraphrasing Tool?
A paraphrasing tool is an advanced facility that rewrites content without losing its genuine essence and meaning. Being a professional writer, you would have the idea that paraphrasing is a type of writing in which you rephrase the content, ideas, or thoughts of others in your words without affecting their actual meaning.
This practice requires you to find suitable and relevant content that you can rewrite using your tone.
However, good grammar knowledge and extensive vocabulary are essential to restate a concept adequately. An online paraphrasing tool automates the process and provides high-quality rephrased content without requiring you to type a single word.
How Does It Work?
The processing of a paraphrase tool is quite simple. Once you enter a well-written piece of text on this facility, it will scan and reshape it by changing most words with the most suitable synonyms. The content you generate with an advanced paraphrasing tool will be fresh and won't include any instances of duplication.
Why Do We Need Paraphrasing Tools?
The assistance of an article rewriter gives a helping hand to businesses to improve their content and enhance their revenue generation.
The use of an advanced paraphraser will help you:
Enhance traffic on your blogging site
Craft quality content on similar topics without repeating words and phrases
Design excellent content strategy
Reuse articles to explore better results
Write the error-free text in a limited time
A paraphrasing tool is a perfect option for writers to manage the flow of work while experiencing writer's block. The facility provides you with an opportunity to create compelling and catchy content, summaries, and emails in a short span.
However, the expected results can only be achieved if you select a reliable and advanced paraphrasing tool. The internet has plenty of paraphrasers, many of which may not provide you with your desired output.
Therefore, you must be extra vigilant while choosing an efficient rephrasing tool to get the best results.
Paraphrasing Tools for Bloggers to Create High-Quality Content
Below are a few most helpful article rewriters for you that will certainly assist you in creating high-quality content straightaway.
1. Paraphrasing Tool by SmallSEOTools.com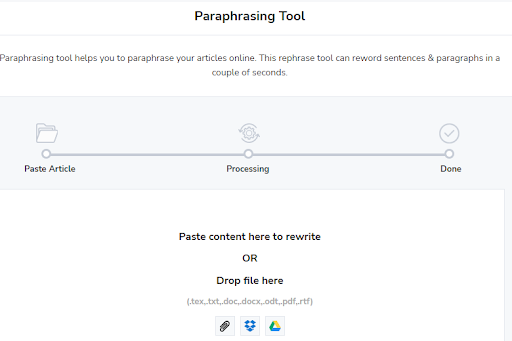 If you are looking for a tool that can offer the best quality rephrasing results while maintaining the meaning of the content after spinning, then this paraphrase tool can be an excellent option for you. The most appealing thing about this tool is that it provides you with human-looking content.
This web-based utility is based on cutting-edge ENL technology that ensures the quality of rephrased text exponentially.
Additionally, the super-friendly interface and clear instructions to spin text on this free tool make it the perfect option for newbies in the writing field.
The other prominent features of this paraphrasing tool online are shared below.
The paraphrase tool incorporates emulated natural language technology that reshapes a text without damaging its core concept. The facility first understands the meaning of the text and then rewrites it by keeping the original idea intact.
This free article rewriter holds power to spin content at sentence and paragraph levels. This unique feature enables you to manage the paraphrasing adequately and get the expected output swiftly.
Users can compare the original and paraphrased content generated by the facility. This way, you can easily find the areas that need to be modified.
The tool allows you to drag & drop a text file, copy-paste text, or fetch a file from the cloud storage for rewriting purposes.
It's a completely free tool to use that doesn't demand any installation or registration from its users to paraphrase an article.
Users can rewrite up to 2000 words in a single go using this rephrasing tool.
2. Paraphraser by DupliChecker.com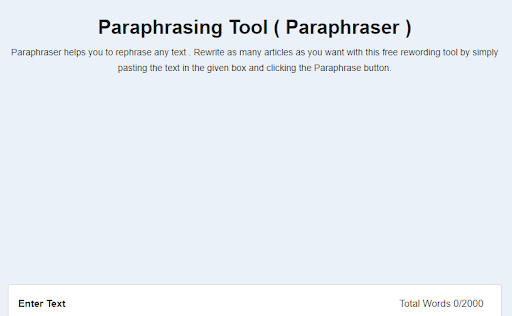 Bloggers who don't want to step into any convolutions for rewriting a text and looking for a simple-to-use facility, can use this online paraphrasing tool. The advanced tool can rewrite lengthy content within a few seconds without changing its sole meaning.
Moreover, the easy-to-understand layout and clear-to-follow steps for using this free paraphraser make it an excellent option for writers. Also, the tool doesn't demand any particular operating system or device for paraphrasing a text.
A few important benefits of using this advanced online article rewriter are
The advanced paraphrasing tool allows you to rephrase text into 10 languages, including English, Arabic, Deutsche, Italian, Dutch, etc. The content you get from this free facility will contain no flaws or instances of duplication.
This web-based facility allows you to rephrase content of up to 2000 words in a single turn.
You don't have to share personal information or sign up using this paraphrase tool.
Its friendly interface enables you to rewrite content without requiring anyone's guidance.
The utility contains a massive range of synonyms in its database.
Provides you with grammatically strong and appealing content.
This free tool uses cutting-edge text-to-speech technology to ensure the same meaning of text after spinning.
3. Paraphrasing Tool by PlagiarismChecker.co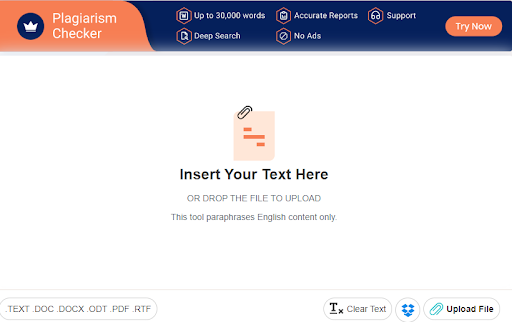 PlagiarismChecker.co also offers a handy and advanced paraphrasing tool to its users. This is undoubtedly one of the best article rewriters on the web that you can try without paying a single penny.
The fast AI-based algorithms it uses are immensely advanced that hold the capacity to provide instant rephrasing without affecting the quality of the text. The readers will feel the rephrased content crafted by a native English writer.
Besides many other pros, this rephrasing tool is free to use. All you require is to upload a piece of text on this facility, and you will get a spun text in no time. Like other paraphrase tools, this facility uses AI and NLP technology to restate content by offering various synonyms. The intuitive interface and the requirement to learn any technical knowledge turn this utility equally ideal for bloggers, students, and researchers. This tool can easily be reached by tapping https://www.plagiarismchecker.co/paraphrasing-tool.
Here are a few main pros of using this advanced online paraphrasing tool.
The article rewriter on plagiarismchecker.co is an advanced facility that grasps the sole meaning of content first and then spins it while keeping its meaning intact.
This online facility guarantees the uniqueness of content. You can examine this claim by running a plagiarism check on rephrased content.
The AI-based tool simplifies the content if it includes complex sentences that enhance its readability.
This online tool claims that there will be no grammatical or spelling errors in the spun text.
Users can rewrite a text of up to 800 words using this free paraphraser.
The paraphrasing tool has a massive library of synonyms. So, your uploaded text will be rephrased with the most suitable synonyms, improving its quality.
4. Rephrasing Tool by SearchEngineReports.net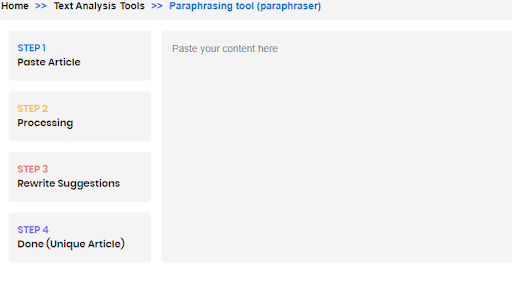 The sentence rephrser available on searchenginereports.net is a well-known utility that offers human-looking content. Most people love this online facility because of its layout and friendly interface.
Bloggers can rephrase articles without complexity using this free paraphrasing tool online. However, ease and simplicity don't affect the performance of this facility. Similar to many other online facilities, this tool uses AI for spinning text. Also, you can fetch the article you desire to rephrase on this facility from your cloud storage or device directly.
Below are some unique features that make this paraphrase tool the best of all.
The article rewriter is immensely fast, but it doesn't affect the quality of the spun text.
Artificial intelligence technology working at the backend of this facility makes this tool capable of understanding ideas in the content and restructuring it without damaging its sense. The spun text will appear more readable and engaging than the original content.
The facility offers its users the freedom to rephrase an article of 2000 words in a single round which is quite unique as compared to many other spinning tools available online.
The rephrased text from this facility will be free of grammatical mistakes. Moreover, there will be no duplication of words and phrases in the spun text. The online article spinner claims to provide you with the best spinning facility.
The spun text generated with this paraphrasing tool will provide no harm to your site's SEO.
Rewritten text from this article spinner can easily be uploaded on any online platform without any fear of plagiarism.
The paraphrasing tool on searchenginereports.net is capable of providing you with a rephrasing facility in 15 languages. These unique features make this facility a lifesaver for bloggers who require multilingual content.
This online facility doesn't demand any premium membership or require any special
5. Paraphrase Tool by PlagiarismDetector.net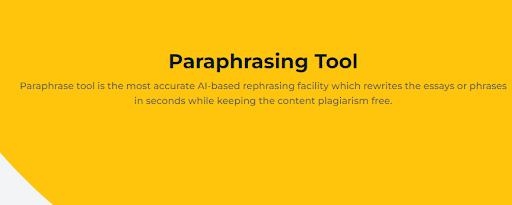 Our last recommended paraphrasing tool is presented by plagiarismdetector.net. This web-based utility is so advanced that the content generated by it never gives an impression of being spun or taken by an AI tool. The online paraphraser uses advanced artificial intelligence and natural language analysis to comprehend the idea of the content before rephrasing it. This practice enhances the quality of the spun text.
Furthermore, the facility is accessible on all operating systems and devices. You can reach this free paraphrasing tool from any web browser and paraphrase content instantly.
The key features of this online article paraphraser are shared below.
The highly modern facility uses natural language technology, artificial intelligence, and part-of-speech analysis to generate fresh and quality content.
Besides English, you can use this online facility to rephrase the content in various other languages.
The online facility offers you to rewrite content in bulk without facing any hurdles. This enables you to paraphrase lengthy content in a single attempt.
The tool scans the text completely before rephrasing it to understand the meaning. The resultant content will be flawless and contain no errors.
The facility provides 100% unique and duplication-free content.
Users are not required to make any account on the web to enjoy the free version of this online paraphrasing tool.
The paraphraser enables you to learn an excellent way of writing technical content without repeating any phrase.
It offers you side-by-side windows to compare original and spun text.
The article rewriter on plagiarismdetector.net claims to provide SEO-friendly content.
Frequently Asked Questions About Paraphrasing Tools:
1. Is it legal to Rephrase content?
Well, rephrasing content is completely legal. But, there are a few things that must be followed to avoid any undesired situation. Paraphrasing is restating the concepts, words, and thoughts of others. Therefore, giving credit to the original writer or source in your article is always suggested.
Previously, when paraphrasing tools were new in the market, many people considered it piracy and ruled them out as a tactic to generate quality content.
However, the table has turned now, and paraphrasers have started gaining positive reviews from people.
As stated, using paraphrasing tools to rephrase content is legal, but it doesn't mean that you use it to violate others' efforts and hard work.
Therefore, not duplicate others' content is essential to prevent any harmful situations.
2. How are Paraphrasing Tools Useful for Bloggers?
High-quality content has been in high demand in recent times, especially after the huge appreciation of online platforms and the invention of modern devices. This huge increase in internet users makes it vital for individuals to provide something unique and appealing to get the attention of their targeted audience.
Therefore, bloggers often strive to look for ways to generate high-quality content for their sites. Writing unique and quality blogs requires ample time and effort that sometimes becomes challenging for bloggers to invest because of other pending tasks.
The assistance of paraphrasing tool assists bloggers in generating content in bulk within a limited period. This approach saves bloggers from the hassles of collecting information regarding desired topics. Also, they don't have to invest their energies in writing all the content themselves. You only need a stable internet connection to access an online rephrasing tool and well-written content that you can rephrase.
Once you are equipped with these prerequisites, generating high-quality content is no uphill task.
Final Words
The days had passed when you had to stick to the outdated and conventional methods for managing and completing your given tasks. Now, you have easy access to beneficial facilities that can be your partner in doing your work effectively.
Writing quality content often becomes a nightmare for bloggers, as it will require extensive time and struggle from them. They need to find accurate and relevant content first and then need to explain their understanding of the topic in their words. This approach makes them dull and late for handling other critical tasks to manage their blogging sites.
The information we have shared in this blog post would have helped you understand the necessity of paraphrasing tools to counter such issues. You can use these modern facilities to generate appealing and plagiarism-free content without facing any ambiguities.
Additionally, all the article rewriter tools we have suggested in this blog post are extremely advanced and capable of providing you with the best rephrasing results. You can choose any of these article paraphrasers as per your preference to create quality content in bulk for your websites within a short span.