All e-commerce shops are powered by Magento, which has propelled them to the top of the global market. It is regarded as one of the top open-source systems that provide the finest opportunities for online purchasing.
Along with being a fantastic E-commerce platform, Magento Development is also a superb CMS with the ability to be customized the most utilizing the extensions provided by any Magento Development Companies.
Furthermore, Magento 2 extensions are available to allow for shop customization at the request of the retailer. One may increase the functionality and efficiency of their online store by using extensions.
BEST FREE MAGENTO EXTENSIONS
You will adore one or more of the extensions listed in this article and utilize them to your advantage if you own an online store or website. However, we advise you to try each of these extensions on your website in order to find the best Magento extension which is also SEO optimization extension that will benefit your company greatly.
1. Magento 2 Page Builder by Magezon
There is no need for any coding knowledge when using the Magezon Page Builder for Magento 2 to create and manage pages for your Magento 2 shop. Through a simple drag-and-drop interface, the addon gives you the ability to build any page layout with a lovely design and smooth navigation. To organize columns' look across various devices, you have complete control over responsive components and layouts.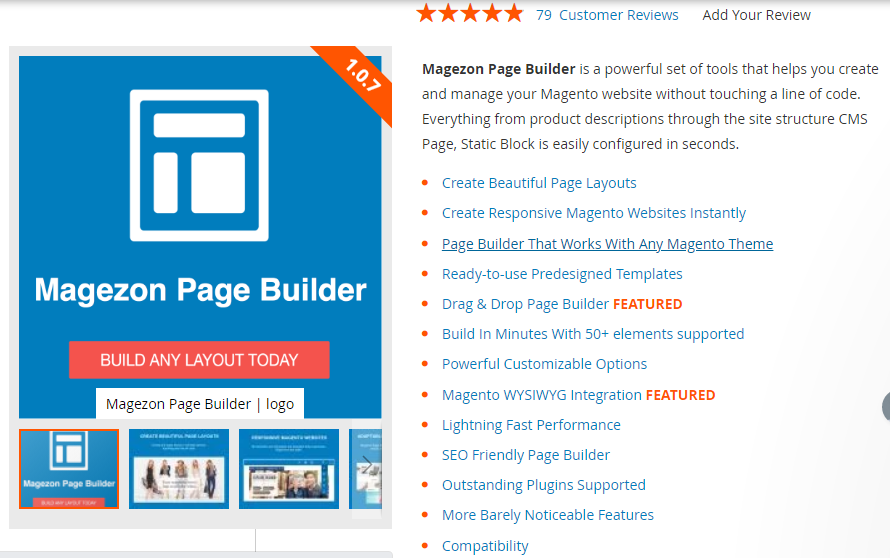 Key features:
Beautiful page layouts are made using visual drag and drop.
Utilize caching to improve efficiency
Offer ready-made templates
Utilizing the WYSIWYG editor in Magento, make responsive pages that are unique.
Pros
No coding knowledge necessary
Magento WYSIWYG integration makes setup quick and easy.
Mobile- and SEO-friendly UI
Simple to duplicate, edit, add, or remove elements
Cons
Problems with accordion: An accordion section displays the headers for your material. Only when users click to expand the accordion is the more specific information hidden. The content won't be seen if they don't skip the accordion part, even if it contains crucial information you want your users to be aware of.
Pricing
One-time payment of $169.
Thirty days' money back
Free updates for life
90 days of free assistance
2. Blog for Magento 2
If the online business has a quality blog, it can draw an increasing number of customers. More information is displayed, and consumer interactions increase. The Magento 2 Blog allows the administrator to easily maintain your store and generate several entries that are helpful to consumers. For any online store owner who wants to handle blogs directly on the Magento store without depending on other platforms, the Magento 2 Blog extension is a need.
Key features:
Suitable for SEO
Embedding a blog sitemap or a Magento sitemap
Blog entries have adaptable characteristics.
RSS optimization
Pros
No ongoing fees
Several design choices
Optimised for SEO
Caching of content
Cons
No blogging features.
Does not encourage the production of rich content
Quite simple capabilities
Exclusive to Magento commerce.
Pricing
Costly for startups with limited resources with 349$
3. Google Shopping by Magenest
As a result, businesses may upload their items to Google Shopping, where customers can search for, compare, and buy a variety of products. Google Shopping Magento 2 enables merchants to effortlessly sync their product data to Merchant Center Account. A wonderful way to advertise your items to Google consumers is through Google Shopping, which is free to use. With only a few clicks, the extension enables you to automatically synchronise your Magento inventory with Google Shopping. You won't have to spend a lot of time copying and pasting product information from your store into Google this way.
Key features:
Synchronise product data automatically
Plan a time for synchronizing or do it immediately
Map the categories in your store using Google categories
For your Google product fields, use your Magento's attribute fields.
Pros
Make a variety of Google-compliant product feeds that may be utilized to conduct Google Ads campaigns.
To track the effectiveness of the adverts, add UTM parameters.
Promotions for Google Shopping.
Learn about the status of your goods.
Cons
They can no longer compete more (or less) fiercely for specific products without bidding per click.
They won't benefit from having a better sales funnel and a higher conversion rate without the visitor to their website.
They won't "own" the customer any longer. Google fulfills the buyer's order, not the merchant.
Pricing
Open Source costs $129 once.
$299 for a single transaction
Installation: $50 Free support for six months
4. Poptin
Online marketers, digital agencies, portals, bloggers, and eCommerce websites who want to boost visitor engagement, create more leads and sales, decrease cart abandonment, and obtain more subscribers can use Poptin, a free lead capturing platform. Without knowing any code, Poptin enables you to make attractive forms and pop-ups for your website. It facilitates the conversion of website visitors into buyers or, at the very least, subscribers. With Poptin, you can quickly conduct surveys, get customer feedback, and suggest additional products to visitors.
Key features:
Conversion
No coding needed
Attractive themes for notifications
Feedback easily recieved
Pros
Creates shrewd and tasteful pop-ups
Available autoresponder
Triggers and exit intent
Cons
There is a recurring cost; there is no one-time payment.
Workflow setup can be tedious.
Pricing
Costs are cumulative starting at $19 per month
5. Magento 2 Landing Pages by Amasty
It is a potent addon that makes it possible to create interesting landing pages. It functions as a visual drag-and-drop page builder and provides more than 15 components for that purpose. The extension's compatibility with all Magento themes is its key benefit. Another excellent contender on this list is Amasty Landing Pages for Magento 2. It assists you in building a website with user-friendly URLs and distinctive content, which are effective tools to increase the visibility of your website online on search result pages.
Key features:
Use lenient terms for the product list.
Using a CSV file, import and export landing pages
Insert unique CMS blocks
Sitemap should include landing pages.
Pros
SEO-optimized website
time-saving arrangement
Adaptability is supported
Free updates for life
Cons
Pricing
Individuals: $149
Business: $449
6. Nostro Personalization
It is simple to swiftly implement completely customized, integrated commerce experiences with fine-tuned control of merchandising rules — spanning product suggestions, content, triggered overlays and popups, category pages, and more — using the Nosto Commerce Experience Platform. The modern focus is on enhancing user experience. Based on ongoing, real-time analysis, Nosto uses big data analytics to automatically forecast the best offers and items for each unique consumer. Let algorithms guide customers who are unsure of which product to select while you sit back and watch the conversions soar.
Key features:
Strong
Free content publishing platform
Excellent customizability
Simple to use
Pros
Localized content creation
Segmentation
On-site pop-ups
Customised emails
Cons
Certain features are exclusive to the Commerce edition.
Sometimes, technical assistants responds slowly.
Pricing
Starting with $0.01 and increasing fees determined on Nosto's sales
7. Magento 2 Facebook Shop Integration
The Magento 2 Facebook Shop Integration extension allows you to sell your products on Facebook by synchronising them with the products in your Magento 2 store. A Facebook Shop could give you a great opportunity to increase sales as social commerce grows. With the aid of this extension, you can easily link your store to your Facebook shop and sync product data automatically.
Key features:
Utilization simplicity
You don't need to know how to code.
Complete creative freedom
Widely applicable to designers, developers, marketers, and business owners
Pros
Sync all product information, such as changes to product names and descriptions, from your store to Facebook Shop.
To sync certain product collections with Facebook, choose them.
Send them to the Magento website so they may pay
Create Facebook product feeds by using a cron job or uploading a CSV file.
Cons
The Commerce edition is the only one that offers certain features.
Pricing
License: one-time, $99
$49 for installation; 45-day money-back promise
Free 3-month assistance
8. Buidify by Aheadworks
Buildify is an all-encompassing page creation solution for Magento 2 that frees you from the burden of coding. It has an incredible selection of more than 70 templates and a variety of widgets to construct everything flexibly and easily.
Key features:
40+ built-in templates
Social networking tools
Import and export pages, undo and redo any changes
impact of animation
Pros
Seventy theme widgets
Supported custom HTML, CSS, and JS
Utilize finder to quickly discover widgets.
Add social media profiles and show the most recent postings on the website.
Cons
Lacks modification at the code level
No built-in templates
Additional expense for ongoing assistance
Pricing
For the Magento Community, Premium: $129
Magento Commerce Premium: $499
9. Gorgias
A multi-channel customer support app created especially for Shopify shops is called Gorgias. Through the use of an extension for Magento, it enables online retailers to more effectively manage client contacts via email, live chat assistance, and social network comments. Direct data from Magento may be used to influence client experiences. Data may be used to customise client encounters, and automated communications can take this into account.
Key features:
Ready-made compatibility with Magento shops
Inexpensive
Updating material is flexible, easy, and quick.
Designs that are ready to use and don't require any coding
Pros
The options menu is simple to use and gives you the option to construct HTML templates with keyword shortcuts.
The software has a nice API and is developer-friendly as well.
You may easily incorporate Macros in your Shopify store using Gorgias.
Cons
To combine it with Emay or Amazon, you need a third-party add-on.
Difficult and expensive
Some of the most important features are challenging to customise
Pricing
Basic: $60 per month
Pro: $300 per month
Advancement: $750 per month
Organization - Custom Pricing
10. LiveChat
The majority of people's time is already spent conversing with one another. Additionally, talking to someone can let them feel much more connected to your company! Customers can use LiveChat as a chat platform for sales, customer service, and other purposes. It's intended to assist you in giving them prompt replies while also supplying a customised experience.
Key features:
There are all social media.
Gather leads and make purchasing simple
Provide an excellent customer experience
Balance AI automation and human interaction
Pros
Analytics reports
Chat widget customization
Connections to other crucial tools
visitor monitoring.
Cons
There aren't much of themes to choose from
Only limited trial
Costly for some users
Pricing
Affordable Prices start at $16/month.
Criteria to choose the best Magento extensions
For your eCommerce website, Magento comes pre-loaded with a tonne of fantastic features and functionality. You can use its platform to run your online business and it helps you create a fantastic eCommerce store. When it comes to Magento extensions, they enable you to effectively provide the supporting features that are most suitable for your unique business requirements, thereby assisting you in making your eCommerce store even more impressive and appealing.
The Magento marketplace has thousands of extensions that are easily accessible. Every week, sometimes even every day, when you enter into Magento Connect, you will find freshly published Magento 2 extensions. More than 6,000 free and paid Magento 2 extensions are reportedly accessible in the Magento marketplace exclusively for you to meet your company needs. You can use some of the tips to use top free Magento Extensions.
We advise you to take your time and thoroughly examine the frontend and backend demos to make sure everything is functioning as it should, including the frontend design, ease of configuration and modification, etc.
You may pick which extensions are appropriate for you depending on the demands and requirements of your business by taking a demo before installing any extension.
To buy a specific extension from the service provider in the most efficient manner, it is also important to check for free support that is offered.
By looking at the "change log" for a product, you can get a better understanding of the life cycle of that product and see how it is designed with quality in mind, as well as what new improvements are included, such as bug fixes, high-quality coding, newly added features, frontend and backend demos, updates, etc.
Whether you're buying Magento extensions or other things online, reviews are crucial when making a choice. They always assist you in choosing the best course of action.
FAQ
1. Is Mageplaza free?
Yes, all Mageplaza extensions are available to you without charge. One of the most well-known e-commerce platforms ever created is called Magento; some people even claim it to be the most well-known. Neither of them will be far away. Building a reputable eCommerce store is easy with the help of Mageplaza's free Magento 2 extensions. Better SEO will help you rank higher and the Social Login and Blog modules will improve user experience in your store. However, you can also have accurate statistics about customer behavior and your marketing campaigns thanks to the Magento 2 Google Analytics Integration. We offer high-quality, risk-free extensions that are updated frequently.
2. How many extension types are available in Magento?
Three different types of Magento 2 extensions exist: Before, After, and Around. A call to an observed method comes after the method has been executed. You should be aware that these methods must have the same names as the observed method but with the prefix "before." The Magento 2 Extension is a technical extension that will improve your coding. A small Magento 2 extension known as Interception Extension enables changing the behavior of any public class or method by intercepting a function call and executing code either before, after, or around the function call.
3. Which are the best Magento 2 extensions in 2022?
The best Magento 2 extension of 2022 is Blog Pro by Amasty, Poptin, Klaviyo, Magento 2 Page Builder by Magezon, and many more. Some people would even argue that Magento is the most well-known e-commerce platform ever created. And they won't be far away. Despite the fact that Magento is used by so many e-commerce business owners globally, compared to Shopify, for instance, many still find it to be somewhat complex.
For a longer period of time than the majority of other e-commerce systems, Magento has continuously had over 250,000 websites. With more than 400,000 users and $100 billion in yearly sales, Magento is currently the leading e-commerce platform. In contrast to WooCommerce, where it is mostly unknown what its yearly revenue is, Shopify is thought to be approximately 1.5 billion.
4. What is the difference between Extension and preference in Magento 2?
The simplest and most fundamental way to differentiate between Magento 2 preferences and extensions is: Preference is used to override classes, and Extension is used to insert functionality prior to, following, and surrounding methods. For overriding the classes, both extensions and preferences are beneficial. However, extensions are preferable to preferences because they integrate our logic into the available classes rather than logically overriding the class as is the case with preferences. Use of extensions is therefore preferable if you want to alter or expand any existing business logic.