If you are taking your first steps into the Wordpress web development and SEO industry, you may have heard of the terms Yoast SEO and Rank Math. But what exactly are they?
Yoast SEO is a best wordpress plugin that is meant to optimize your website content and keywords. Whereas Rank Math is an SEO plug-in for WordPress.
In the case of Yoast SEO, it automatically raises your Google rankings making it easy to generate more traffic. With the right ideas and creativity, you can make use of Yoast SEO.
These days, if you don't have quality SEO strategies in hand, it can get real difficult to attract potential customers or generate leads. Yoast SEO is considered to be one of the most popular plug-in on WordPress and has therefore been installed more than a whopping 11 million times! Crazy, right?! Whereas some argue that there is nothing like Rank Math. It is considered to be a wizardry tool to enhance your site's SEO. Not only that, but it also helps generate high quality content with the help of AI, making it the first SEO plug-in to do so. Rank Math utilizes the best SEO practices to generate maximum traffic and high value leads.
So which one is better – probably the question that you have in mind. This article gives you an in depth insight into both Yoast SEO and Rank Math so that you can have a better understanding. Make sure you read till the end! Let's begin.
Yoast SEO - All Things You Need To Know
As mentioned earlier, Yoast SEO is a WordPress plug-in whose main aim is to help webmasters optimize their website for search engines. Compared to other SEO plug-ins, Yoast SEO is used the most.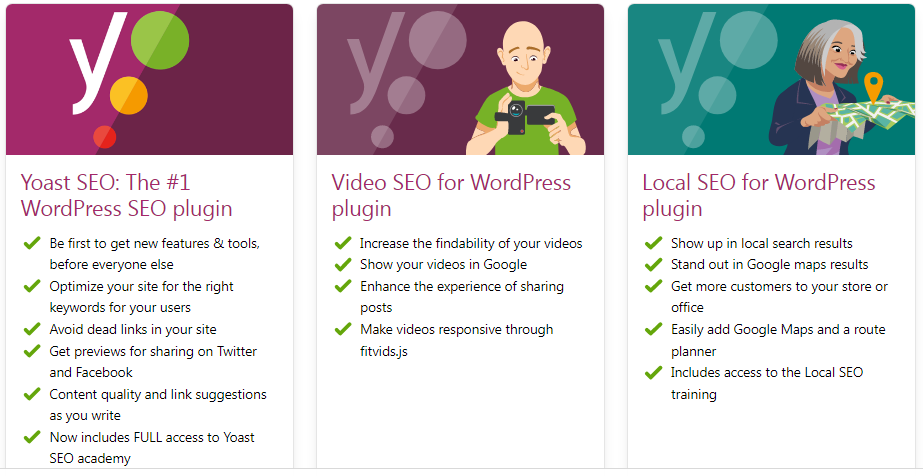 This is because it works better and faster which is pretty much necessary to beat your competitors. It provides state-of-the-art SEO analysis and innovative content that can attract potential customers.
Here are some of the key features of Yoast SEO that you should be aware of;
Provides templates for meta description and title. As a result, your branding improves which can expand your target audience. Smooth management of data in WordPress allows for the faster loading of the website.
The SEO aspects such as meta tags and canonical URLS are updated automatically which leads to improved technical performance.
Provides easy to read high quality content for both search engines and readers. Again this expands your user base resulting in increased traffic.
Provides Google preview both on PC and mobile via which you can get an idea of how your listings look like.
Helps to write language inclusive content. This feature can be found in the new and premium version of Yoast SEO which allows language analysis. As of now, it is English only.
Internal linking facilities for better optimization. Thus, your website attracts more and more clients.
Translates content into the structured data for better performance of the search engines.
Supports team management by providing access to certain aspects of the SEO plug in. Yoast SEO comes with specific SEO roles which promotes this.
Want your FAQ and How To sections in the search results? The schema blocks of Yoast SEO for the WordPress block editor does the job. Additionally, the users are guided via the breadcrumbs block.
Besides these, when you go for the premium version of Yoast SEO, you will come across many other features of this plug-in that promise better performance. A few of these include internal linking suggestions, zaps to mass-share your published posts, cornerstone content checks, social previews, etc. These are meant to enhance your website's SEO performance and facilitate top clients for maximum profits.
Rank Math - What You Need To Know
According to users, Rank Math is said to be one one of the best WordPress tools so far. This plug-in comes with built-in suggestions that help in easy optimization of your website. Its user interface is quite simple yet has advanced facilities that can elevate traffic and keep the visitor hooked to your post.
Known to provide a detailed keyword analysis, Rank Math comprises key features that have and continues to gain appreciation around the world! The official website of Rank Math lists down its features in detail that you can check out if needed. For now, let's talk about a few that have caught the most attention from users globally;
Tracks the position of your website on search engines based on the keywords used. As a result, you will have a clear idea on where your website stands in the competition and make the necessary changes.
Helps to craft content that meets SEO needs. As discussed earlier, Rank Math is the first and so far the only SEO plug-in that uses AI to create content. While writing, Rank Math gives you a list of suggestions wherein you can choose the best of words and phrases to make the content interesting and worthwhile.
Schema validation. Well, inside your WP dashboard, you have the Rich Results Validation Tool of Google. Rank Math allows you to check the Schema markup against this, which means that you can validate your schema when you are adding it.
Create content by adding knowledge graph meta data. Knowledge graph meta data is crucial to understand and evaluate how your data is being consumed. Rank Math makes it easier to add knowledge graph meta data tags to your website which can help rank more keywords and attain space in the SERPs.
Boost image rankings via automated image SEO. Amongst the various clever tricks to raise your SEO rankings, image SEO is pretty underappreciated to be honest. Rank Math does it for you and that too by putting it on autopilot. It simply adds the ALT and Title to your images so that maximum traffic is generated.
Supports equal ranking. To elaborate, if a business company has multiple locations, the multi location local SEO feature in Rank Math ensures that each of them are ranked equally based on keywords that are mostly locally searched.
Helps in video indexation. You may have noticed that sometimes Google shows a video alongside a description/meta data in the search results. Rank Math supports the same by adding your videos and meta description together. It is compatible with Google's video sitemap guidelines. Thus, more clicks and views!
Helps modify details for additional CTR. Since SERPs are being pretty competitive these days, it is important to ensure that each word you put out there holds value. Rank Math consists of multiple URL separators that gives you the option to modify any detail such that your SERP listings are unique and generate more engagement.
Enables easy modification of meta settings. Through Rank Math, you will have complete access to your website's robot meta. The robot meta tags are responsible for the maintenance of your website pages, that is, whether they are crawled or indexed. The global robot meta feature of Rank Math helps to alter the meta settings of several pages at once, simplifying the process which saves time and energy.
Helps monitor page loading speed. Rank Math lets you track the speed at which your website pages load in WordPress. Be it single posts/pages or collectively, you can easily get it done via Rank Math.
Comparison between Yoast SEO vs. Rank Math
You may now understand why Yoast SEO and Rank Math are being talked about a lot. But now the question comes to 'which one should I choose?' Know that it isn't uncommon to think that way.
Yet, at the end of the day, a choice has to be made. Let's consider some of the key factors that gives accurate differentiation between Yoast SEO and Rank Math.
| Factor | Yoast SEO | Rank Math |
| --- | --- | --- |
| Affordability | Expensive(free & premium) | Premium more affordable |
| Features | Either paid or limited | Moderate |
| Updates | Offers more for free | Frequent |
To Conclude
While both Rank Math and Yoast SEO come with a broad range of brilliant features, most of which are similar, the former wins in the end and is a user-favorite across the globe. To start with, it is comparatively more affordable and its premium plan provides an unlimited license, a factor which is really hard to ignore. In the case of Yoast SEO, this is limited.
Again, when you want to access facilities that can bring the highest profits, Rank Math remains the sole answer. Not to mention the amazing user interface! You can try out both to see what feels convenient. Or simply go ahead with Rank Math and witness the magic it does to your website!